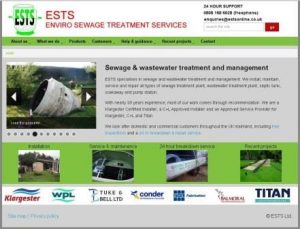 Enviro Sewage Treatment Services (ESTS) specialises in sewage and wastewater treatment and management. They approached the Dent Consultancy for both strategic and practical help in launching a new website.
Research quickly revealed the scale of the opportunity to build a strong online presence, focused on generating new business, as so few competitive companies had good, well optimised websites.
Various forms of research, both online and offline, including a comprehensive competitive analysis and interviews with key ESTS personnel, enabled us to produce a strong and distinctive brand positioning.
We then planned the website structure with search engine optimisation in mind. Extensive keyword research led to the inclusion of a series of carefully chosen landing pages. In order to be consistent with the current corporate livery, which runs across all company vehicles, design work was minimal, but focused on giving the site a very clean and simple layout.
The new site consisted of over 40 pages and was launched in June 2013. The entire project, including researching and writing all the copy, building the site with a comprehensive content management system (CMS), then loading and optimising all the content, took just three and a half months.