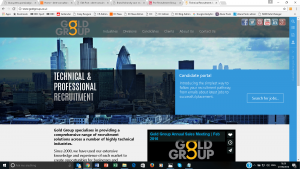 When the Dent Consultancy was introduced to Gold Group, we discovered a highly specialist recruitment organisation, doing an excellent job servicing a series of niche markets, but one which had yet to embrace branding and marketing. A great opportunity.
Starting with a clear strategic positioning, we guided Gold Group through the creation of a new corporate identity, which was then translated across all company livery, including signage, stationery, a highly sophisticated new website and various different pieces of marketing material.
Suddenly the company's image looked as good as the precious metal in the name. It created a very positive reaction both externally and internally.
In addition to looking good, the re-positioning also involved the definition of a brand tone of voice – relaxed and confident, rather than pompous and salesy – reflecting Gold Group's expertise and experience in some highly technical niche markets. This tone of voice runs through all brand communication.