iSnack2.0 – Vegemite's long running naming comedy continues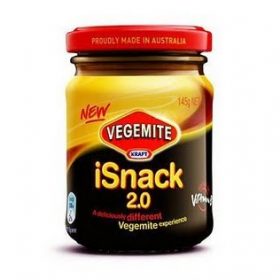 How to damage to a brand – a true story…
Ever since it was invented in Australia in 1922, the Vegemite commitment to naming comedy has been relentless.
When Cyril P Callister (apparently true) came up with his Marmite-esque spread in 1922, he didn't know what to call it, so decided to give the Fred Walker Cheese Company (also apparently true) responsibility for naming it.
The Fred Walker Cheese company didn't know what to do, so they ran a competition to name the spread.
As the story goes, someone who had drunk quite a lot of Bundaberg Rum was trying to ask whether the product was "veggy mate?" and, in the ensuing misunderstanding, it got called Vegemite.
Six years later, Fred realised that they hadn't sold many pots of the stuff, so decided to change its name to Parwill and launch the truly remarkable slogan "If Marmite, Parwill". (If you don't believe me, check the date – it's not April 1 – and get Googling the veracity – bizarre but true.)
Needless to say, the name didn't last and Vegemite re-emerged.
There then followed a period of un-naming, when, for whatever reason, they forgot to change the name. Seizing the opportunity to benefit from a temporary lack of confusion, people started to buy Vegemite and rather enjoyed it.
Completely by accident, Vegemite became a much loved family brand, worth millions of dollars and so much a part of popular culture that it featured in the Men at Work song "Down Under" – "He just smiled and gave me a Vegemite sandwich."
Having forgotten to mess about with the name for a while, in February 2009, the new owners Kraft realised they needed to get back to the naming game and gave the public a new variant mixed with cream cheese to name.
When the name iSnack2.0 was chosen from over 48,000 entries, Dean Robbins, who came up with it, was more than a little surprised, himself describing iSnack2.0 as "all a bit tongue-in-cheek".
However, in a brilliantly comic speech, all too reminiscent of Little Britain, Simon Talbot from Kraft said: "The name Vegemite iSnack2.0 was chosen based on its personal call to action, relevance to snacking and clear identification of a new and different Vegemite to the original. We believe these three components completely encapsulate the new brand." And they went with it.
The rest is history. Alienation of core brand users, a Twitter revolt, a complete about turn and the variant is now called Cheesybite.
On one hand, Vegemite should be praised for a bold and innovative approach to naming the new product. However, this is vastly outweighed by the failure to understand the role and values of the brand for its core users and iSnack2.0 is likely to go down as one of the more memorable branding faux pas.